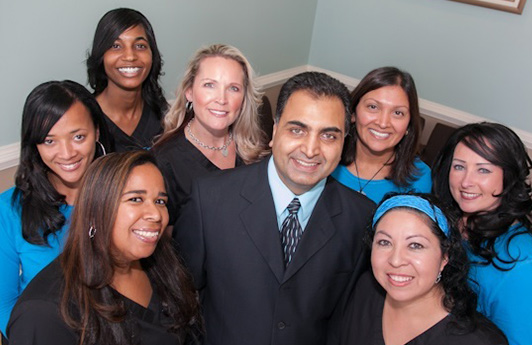 Meet Our Team
MariAnna Weaver
Administrative Assistant
I am one of the first smiles you'll see as you are welcomed to our practice. With 5 years of customer service skills within the dental field, I am happy to assist you with scheduling your appointments, processing your payments, updating your account information and verifying and loading your insurance. Born and raised in Atlanta, Ga and a mother of two, you'll find I have great patience and that southern hospitality to make you feel right at home. So, feel free to ask me any questions you may have at check in or regarding your dental treatment plan. I am always happy to help!
Anna Brinson
Financial Coordinator
Born and raised in Atlanta, I am a mother of two and a grandmother of two. I know the importance of taking care of your family as well as yourself. I understand how difficult it can be to comprehend insurance terminologies and policies. No worries, with over 25 years of experience in both the medical and dental field, I have specialized in health insurance and finance and I am here to help. After reviewing your dental insurance and treatment plan, I can help you understand all estimates given in order to help you prepare for any patient portion required, prior to any treatment. Eliminating the frustrations of insurance is what I do best and I am happy to do that for you.
Kari Ortiz
Dental Assistant
I absolutely love what I do and that is making you feel right at home! All the way from Miami, Florida, I have always enjoyed being around people and getting to know them. So as I greet you with a smile and escort you personally to the operatory, you can rest assure that we will get to know each other well. I'll make sure your room is already set up and prepped for your specific need today and I'll guarantee the art of taking x-rays will be quick and gentle. Have no fear, I am with you until the end as I assist the doctor during your time of treatment and will be sure to walk you out once you are done. Until next time, I look forward to seeing you again.
Mayela Rodriguez
Lead Dental Assistant
Buenos Dias! Yes, we cater to both English and Spanish patients, and I am honored to assist and interpret to all. Born in Coahuila, Mexico, I am highly experienced in all areas of general dentistry. I have worked with Dr. Ranch for over 10 years. Come join me in the Zoom room, where I assist in prepping you for your Zoom Whitening or lean back and relax as I assist the doctor with your braces and adjustments. After all, there's nothing like a straight and beautiful white smile.
Kimberly Williamson
Dental Hygienist
I'm a Georgia native who has been a Dental Hygienist for over 12 years. When I'm not with my dental family, I enjoy spending time with my husband and our son traveling and exploring new adventures. Here at Family Dental Solutions, I thoroughly enjoy making your smile shine! Giving you a reason to smile is a great feeling! In addition to your dental cleanings and exams, I carefully review your x-rays and take my time in helping you to understand the importance of great hygiene as well as educating our patients on nutritional habits that can affect your teeth and gums. Getting to know each of my patients personally and catering to their individual needs never gets tiring as I love the excitement in their faces every time they hear "Great Job, No Cavities! " and it's wonderful to know that I was a part of that.